PLUS Ho(s)tel Berlin
Warschauer Platz 6 – 8| 10245  Berlin |  +49 (0) 30-2123 8501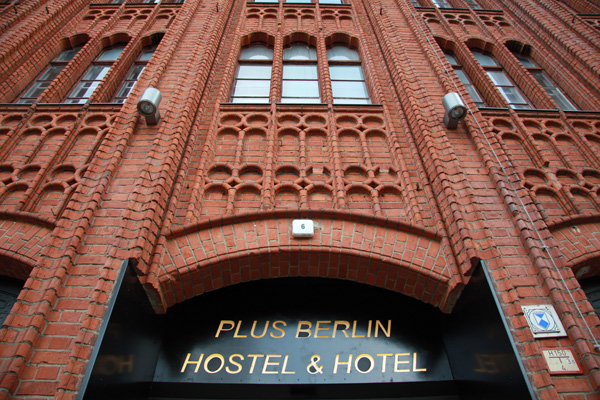 WOW! This really describes the first impression of the PLUS Ho(s)tel Berlin best. At second and third glance it simply remains a WOW. Wow PLUS Wow! The imposing brick facade is as striking as the inside of the building. One enjoys to come, see, marvel … This reaction was exactly their successful intention and we won´t bother you with too many words – this time the pictures tell the story – have a look! Let´s start with the outstanding courtyard of the PLUS Ho(s)tel Berlin. You can easily spend a couple of hours there to enjoy the beautiful and relaxing atmosphere as well as to admire the obvious and hidden art.
The beautiful and large garden (in the middle of Berlin – remember that!) is not only dedicated to the artwork but to nature and spectacular views as well: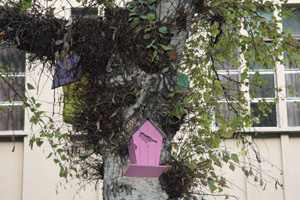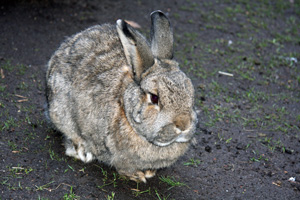 Let´s go inside – a very stylish ho(s)tel is waiting for you!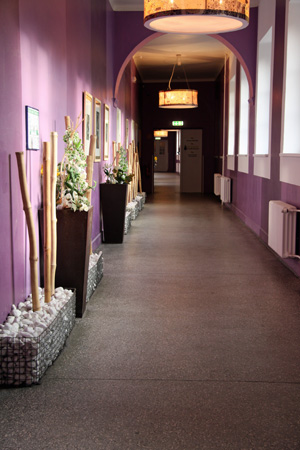 The walls of each floor are decorated with art, installations and paintings of various artists:
This beautiful entrance (below) leads you to the lobby and reception, where special offers like free yoga classes during winter are waiting for you – isn´t this a very nice PLUS?
Unfortunately, I could not have a look at the swimming pool at the time being there, but you only have to visit the PLUS Website and get the instant wish to dive into the cool blue … In the hostel itself this sign to the right will guide you to the waves.
This young man to the left is responsible for the successful daily business at the ho(s)tel. Morgan Field accompanies the PLUS in Berlin from the opening in summer 2010. Welsh-born Morgan studied Business Administration in the south-west of England, in Swindon. Though he likes Berlin he sometimes misses the countryside, nature and rural surroundings. But he knows he is still lucky working at such an outstanding place …
Remember: Berlin loves you and you will love the PLUS Ho(s)tel there!