CITYSTAY Hostel Berlin
Face to Face with the CITYSTAY Hostel |  Rosenstrasse 16 | 10178 Berlin | +49 (0)30 23 62 40 31
As time goes by … Exactly one yand ear ago, in April 2016 I visited the CITYSTAY Hostel in Berlin to meet citystay's manager Martin Fischer. The hostel is a cosy place right in the middle of our German capital . One could not stay more "in the middle", you have got it all around: the famous Alexander Platz, the Museum Island, the Hackescher Markt, Rosenthaler Platz and loads of shops, cafes, bars etc. – everything within walking distance.
Fortunately, you are not in the middle of a city-typical traffic chaos at the same time as the Rosenstrasse 16 is part of a very quiet pedestrian zone, a huge advantage. This central location is perfect in every way!
A look at my pictures proves that April 2016 has been quite a weather friendly month in Berlin, at least that day. I well remember my excitement about citystay's beautiful large courtyard and wished it was summer and open already. Because then the they do lovely barbecues in here. Look for yourself (and keep in mind that this place is in the heart of Berlin):
(click on the pictures to see enlarged versions)
At one corner – my favourite one – there were lots of flowerpots and leavy leftovers of last year's herbs and salads (it probably looks exactly the same right now in April 2017). Gardening equipment was already waiting for starting into the new season – with Martin Fischer. He was ready for it as he is a garden-lover with green thumbs and manages to grow that much that it covers the needs of the entire hostel kitchen. That is what I call pure urban gardening, organic on top. I would love to see the place in full bloom one day – I have to come back in summer!
(click on picture to see enlarged version)
If you go inside an open reception with joining bar and cool music are waiting for you. As well as a huge selection of beer. As far as I could see there is no German beertype NOT represented in the citystay. Even better, you get "FlessaBräu" here, that is tasty craft beer from a small Berlin brewery only 2 km from the hostel. As soon as you are in Berlin you have to taste Flessabräu, ideally in the citystay hostel, they have them all: Pilsener, Export, Weizen, ExtrAle and Mandarine.
(click on picture to see enlarged version)
When I asked about the music (sort of rock-classic that day) I was told that the respective receptionist is also the disc jockey in charge for the day playing his own favourite music. This way you can listen to a vast variety of musical tastes during your citystay.
Speaking of music: as there is no distincitive hostel-song, I accidentally thought of one myself. It came to me when Martin Fischer told me that he has been in the hostel business for ages but before that, he used to be a chimney sweep. I was delighted as this is such a rare profession nowadays and I instantly thought of one of my favourite childhood films: Mary Poppins and the most wonderful chimney sweep Bert. In his song "Chim chim che-re" it goes in one place: "When you're with a sweep you're in glad company. Nowhere is there a more happier crew …" Well, that is just the same with the citystay hostel: you are in glad company, within a very happy crew!
Last but not least a few interior pictures from a citystay doubleroom and a citystay 6-bed-dorm:
(click on pictures to see enlarged version)
And then, before you check out, don't forget shaking hands with Martin Fischer as "good luck will rub off" when you shake hands with a chimney sweep – even if he has turned into a happy hostellier for far more than 10 years already :-).
HOSTELO Berlin
Face to Face with the HOSTELO Berlin  Jülicher Straße 14 | 13357 Berlin | +49 (0)30 497 680 80


In Berlin, Wedding has not always to do with two people entering the knot. Here in Germany's capital, Wedding is a long-established neighborhood which is nowadays part of the district Berlin Mitte. Here in Wedding, just opposite the large shopping center "Gesundbrunnen" you will find an almost brandnew hostel, it is the "HOSTELO Berlin", opened in January 2015. The HOSTELO is located in a beautiful old building with quite an interesting history: In 1924 it was built as the clubhouse of the famous Berlin football club "Hertha BSC" and right next to Hertha's football stadium "The Plumpe" (as it was called by the Berliners). Here in Wedding, the Hertha football team had their golden years before they moved to another Berlin district "Charlottenburg" in the 60s.
After the athletes had left and sold their old home in Wedding, the stadium was demolished in the 70s and the clubhouse expired more and more. In the 90s it was planned to build a sports hotel there but unfortunately the investor went bankrupt and the decay of the once beautiful clubhouse continued. But only until Ercan Ocac and his family saved the building and turned it into a very cosy hostel or in his words into "the pearl of Wedding".
The locals are also quite happy that the neglected building is now shining with a new look and still the old charm. Even better news: the facelift activities are not at all finished yet. In August, there will be a brandnew boarding house with about 110 apartements right next to the hostel and in 2018 they will open a four-star-hotel at the same premises. The picture of the construction site shows what it all will look like in the end.
The interior of the hostel is dominated by art. You will find paintings by various Berlin artists everywhere. Here is an excerpt of some of the pictures by Klaus Zylla.
A lot of the paintings are hanging in the lobby and the spacious restaurant:

The rooms are all very cosy and tastefully decorated:
Of course, they do have dorms and bunk beds at the HOSTELO as well. Once there was a lady in her 80s coming to the HOSTELO, asking for a bed in a dormitory. She didn't mind the majority of young guests at all, neither the fact that they were even sharing the room with her. The only thing she was asking for was a bottom bunk bed so she didn't have to climb upstairs. That is really cool! We will hopefully be as relaxed and fit as this wonderful lady when we reach our 80s.
But first of all, in the closer future, I will come back to the HOSTELO to inspect all the novelties. Until then I would like to say thank you especially to Mr. Kleda who showed me round the house and told me all the interesting facts and features :-).
Good bye and good luck with all reconstruction projects!
Grand Hostel Berlin
Face to Face with the Grand Hostel Berlin  Tempelhofer Ufer 14 | 10963 Berlin | +49 (0)30 2 00 94 45 – 0
When I walked up that short 100 metres from the U1-metro station Möckernbrücke to the Grand Hostel I passed the Cafè "Grand Ma's". At that time I didn't know that it was the hostel's restaurant where they mainly serve breakfast. I only thought that I would love to step in for a coffee because it looked so incredibly cosy and inviting. Have a look for yourself:
I got my coffee a couple of minutes later when I arrived at the Grand Hostel itself, delighted and thrilled. What a beautiful building! One of these really grand (!) houses built before the turn of last century. Stunning! My enthusiasm was not only a thing at first sight, I kept it throughout my visit at the hostel and even took it back home with me. The first thing you notice when you enter the hall are all the awards the back of the reception desk is decorated with. The Grand Hostel has already received a huge number of prizes and it will keep on getting even more, that's for sure. The last one was given to them only a few days ago: the 2016 Certificate of Excellence by Tripadvisor. Amazing! Moreover, the Grand Hostel has been referred to as the "best hostel in Germany" and "the most popular hostel in Berlin". No one doubts that after recognising an occupancy of 96,2 % in 2015. That is the most desperate out of reach dream of every ho(s)teliers. When I used to work for a large hotel chain 20 years ago, we did a really great job with an occupancy rate of 72 % – but here we speak of even 25 % more, that is unbelievably well done! All the praising (and prizing) is 100% comprehensible. The entire team of the hostel is like one big family. And that's exactly how they treat their guests – like family members. When a guest arrives at the Grand Hostel he is seated at a wonderful long table first:
Here the check-in is done, very relaxed and most comfortable for anyone just arriving. For me too :-)! And from here you have this lovely view into the next room, which is the library and bar:   
 Immediately one has this combination of feelings: the homiest, most cosy feeling of coming home to Grandma and beeing very, very welcome and at the same time  a sort of noble, almost luxurious feeling because of the grand building. Spacious, generous rooms with high ceilings and a wonderful interior design, which is thoroughly thought out and carefully chosen in every single detail.
Only one example for such a detail: in the Grand Hostel they still have around 15 so called "oven tons" (left). In former times, they belonged to the heating system – and they still do today. Nowadays of course, the staff does not have to shovel coal deep down in the cellar any longer, this is done electrically. But the oven tons are still heating the rooms and they are tenderly kept in shape and cared for. Last but not least, they are an absolutely unique eye-catcher – at least I have never seen such tons before, except a similar construction in an old French castle.  This exceptional attention to details continues when it comes to the rooms. They are all furnished and equipped differently. One of the owners (you could also say one of the Jörgs because both owners are called Jörg, one of them J. Lützenkirchen and the other one J. Pflugbeil) has a faible for antique furniture and every now and then he comes along with a new "old piece" that needs to find a nice place somewhere in the grand house. That's how such a beautiful old cabinet for instance gets into a double room:
  Not only the doubles, also the dorms are very comfortably furnished. There are different paintings on the wall and – of course – oven tons. And there are no bunk beds at all in the Grand Hostel, that also makes a huge difference:

Another outstanding offer: the activity plan the Grand Hostel team presents it's guests. Here again, they understand themselves as a family together with their guests. They even offer a "Grand Family Dinner" and all the other activities focus on common, shared experiences as well:

On my visits to the hostels I always bring along a few questions. The Grand Hostel's answer to "What song represents your hostel best?" fits perfectly into everything I experienced at this lovely place so far. First thing I noticed, they wanted to decide for a song as a TEAM and then they chose "All together now" by "THE FARM". The story is about the First World War, when at christmas time soldiers belonging to hostile parties voluntarily agreed on a "christmas truce" (that was NOT a military order!). They declared a certain region to a neutral zone and there, they peacefully celebrated christmas together. The Grand Hostel team considers "All together now" a very current issue and would love to see that the world sort of acts as one big hostel. Because in a hostel, there are day by day many different nations all together peacefully talking, laughing, having drinks and diner etc. If this fantastic idea of our world being one big hostel ever works out, we of course need as great and perfect hosts as the Grand Hostel has to offer. The team is great, the bosses (the "Jörgs" – remember) are great and together they even won a German Television Show called "Mein himmlisches Hotel" meaning "My heavenly hotel". In this show there are 4 different hotels judging each other's qualities in various respects (service, gentleness, tidiness, comfort factor and many more). Therefore, all participating parties have to stay the night at each competitors' place. For the Berlin region there were 3 hotels and 1 hostel taking part in the TV accompanied competition. And that one (Grand :-)) hostel was (and still is) the proud winner – that proves the "Grand Hostels" name is absolutely justified. Congratulations! Last but not least I would like to thank the entire Grand Hostel team for a very nice welcome and especially Nina Geserick and Anika Felix for entertaining, efficient and fruitful talks during my visit. They know and appreciate our software very well. At the same time they have clever suggestions for improvement and together we worked out good ideas for the future. For example, doing ASSD training sessions in Berlin and establishing a sort of ASSD expertise circle within all the Berlin hostels. A huge lot to look forward to :-)! GOODBYE to a GRAND FAMILY – see you soon!
Industriepalast Hostel Berlin
Face to Face with the Industriepalast Hostel Berlin
Warschauer Str. 43 | 10243 Berlin | +49 (0)30 74078290
Industrial Palace, that´s what the hostels's name means and also what it looks like. The red brick building fits perfectly into the surrounding environment that shows signs of interesting brickwork facades, the Suburban Railway passing by and crossing the famous Oberbaum Bridge, the attractive East Side (open air) Gallery, a former section of the Berlin Wall, just around the corner and altogether a very lively scenery give you at once a feeling of "I have definitely reached my destination". This is Berlin. In the middle of Friedrichshain and Kreuzberg. No matter where you are, in front of the hostel or inside, this is what I am thinking of when I recall Berlin. And when I later asked the hostel staff in which other city or region they could imagine their hostel to be, they unanimously and passionately stated: "Nowhere else! The Industriepalast represents Berlin, it is deeply connected with Berlin, it simply has to be in Berlin." Quite right they are!
The Industriepalast Hostel has succeeded in keeping up the wonderful Berlin atmosphere that is created by it's surrounding Kiez (Kiez is what Berliners call their neighbourhood). Speaking of that, the hostel has great tips on how to get round the Kiez by bike or on foot without missing anything like fantastic little cafés, clubs, interesting old corners, all sights of course and even attractive places to take great pictures. Just ask!


Entering the hostel you are finding yourself in a spacious lobby with wonderful high ceilings, deriving from the time when the hostel still was an industrial building filled with giant machines. There are lots of testimonies of that period around the hostel. The picture below with the control tools for example or also the wonderful old transport cages, nowadays used for storing guest's luggage. Or the memorable yellow phone cell dating from the more recent past.


In the lobby you will also find a nice small book exchange as well as a generous bar. Here I got a wonderful coffee brewed by Industriepalast Hostel's sales manager Ulli Weida personally.


Sipping the cup of coffee, Ulli told me a lot about the hostel, its history as well as things and stories out of their hostel life. When I asked him about his best experience in the Industriepalast Hostel, he told me something worth to remember: "It is not that much about the one and best experience. Working in the hostel business, you can make people happy during their holidays or leisure time. Very often with small things. So many of them are happening day after day, you simply have to notice. Wonderful things that give you positive feedback and good energy right away. Like serving somebody a good cup of coffee after a 24 hours flight. Or make a guest's room available a few hours before the official check-in time. Many things like that. The important point is to recognise them within the busy everyday work. And the sum of all these small details and moments make you much more content than one huge single event."
These words are so true, not only in terms of hostel work but for all of us in our daily routines. Ulli certainly has developed a good eye for positive things in life.
Nevertheless, he and his colleagues are of course very excited when all of a sudden celebrities from showbiz and politics turn up in the Industriepalast Hostel. Like actor Vince Vaughn during a film-shoot or the Cockney rapper Mike Skinner, better known as "The Streets".
When I was remarking that the music in the lobby was not like Mike Skinner at all, I was told another interesting detail about the hostel: they have no such thing like a fixed selection of music. Instead, it is a crew-mix. Whoever is in charge at the reception decides about the radio station. So you can listen to almost everything at the Industriepalast Hostel, from the Berlin station Flux FM to the Australian Triple J. Now you know where to go for a music request at the Industriepalast :-).
Last but not least I wanted to know what the Industriepalast Hostel likes best about the ASSD Software. The man to ask here is Jonas Wernecke. He is very happy with the monitoring tool which outlines quickly and clearly structured various to-dos like demanding a confirmation or deposit. Thus, they can in time get back to the relevant guests, send reminders etc. and reduce no-shows at the end of the day.
At that occasion Jonas also told me about a software feature he would love to work with: our ASSD PMS should recognise incoming calls and should then automatically open the relevant reservation document. Well, here we are: this feature is already included in the ASSD PMS and only needed to be activated at the Industriepalast Hostel.
Not only from that perspective we have to notice once again that it is always good to talk :-).
Thank you very much for the extremely nice welcome, a very interesting tour through the Industriepalast Hostel and our profound interview!
aletto Hotel Kudamm
Hardenbergstraße 21| 10623 Berlin | +49 (0)30-233214100
Wandering through the aletto Hotel Kudamm is like going on a wonderful expedition of discovery with an outstanding highlight to be found on top. This unique topping is the roof of the hotel – a place worth to be bucket listed. The picture only shows the view in one direction, but it is like that all around – 360° Berlin. And at aletto Hotel Kudamm you are right in the middle of the city. Simply fantastic!
And then – look at that: if you are lucky you get even a room with a similar view!
But there is much more about the aletto Hotel Kudamm than only breathtaking sights. At the rezeption you get a very warm and professional welcome. I had the pleasure to meet Jennifer Cieluch (left), who used to work in 4 – and 5-star-hotels and is very well trained. Jennifer(left) is a true Berliner, she was born here. After she finished her training in hotel management, she went south to work in Zermatt, Switzerland. Returning to Berlin meant for her to swop within the hospitality sector as well – she started to work for ho(s)tels instead of hotels. And she loves it, especially the far more relaxed atmosphere and the lack of stiffness, inherent to a lot of upper class hotels.
At the aletto Kudamm motivated young people have the chance to do a training in hotel management. Like Anna-Lena Schönemann (right), she is in her first year and likes it a lot. Besides working, she loves meeting friends and going shopping. Sounds as if she couldn´t have found a more suitable city to live in :-)!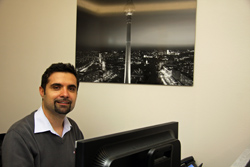 A huge "Thank You" goes to Razvan Lates (left), Sales and Marketing Manager at aletto Hotel Kudamm. He was the one showing me round this beautiful place. Razvan Lates is a highly versatile person, not only Master of Arts in Marketing and Communication Management but he also holds a university degree in Philosophy and Anthropology. He fluently speaks four languages and his German is so perfect you wouldn't guess his native country Rumania. On our way up to the wonderful rooftop with lounge bar he explained that the building of the aletto Hotel Kudamm dates back to 1958 and is listed as a historical monument (just like the nearby Amerika-House Berlin) what makes reconstructions, especially concerning stairway and facade extremely difficult.
The floors of the aletto Hotel Kudamm are assigned to various themes and topics, most of them are sort of art exhibitions in cooperation with several museums. To the right you see a floor directory that shows what all there is to explore in the whole house.
Otmar Alt (ground floor) has to be mentioned seperately. He is a famous contemporary german artist and he is the designer of the little aletto-logo. By the way, the hotel's name "aletto" comes from the Italian expression for "lying in bed" – in rooms with a view – remember :-). Going downstairs again and heading towards the aletto offices, we went through the green courtyard and a huge terrace with sun beds.
There is so much space (in the middle of Berlin, imagine!) that the aletto Hotel Kudamm can even offer an area to play professional boules and – believe it or not – an entire soccer field. Voilá, here we go:
Before I left this wonderful location, I had the pleasure to say hello to the company's management: Hendrik Kröger:
When I stepped out into the dark night again, I turned round for a last glance:
PLUS Ho(s)tel Berlin
Warschauer Platz 6 – 8| 10245  Berlin |  +49 (0) 30-2123 8501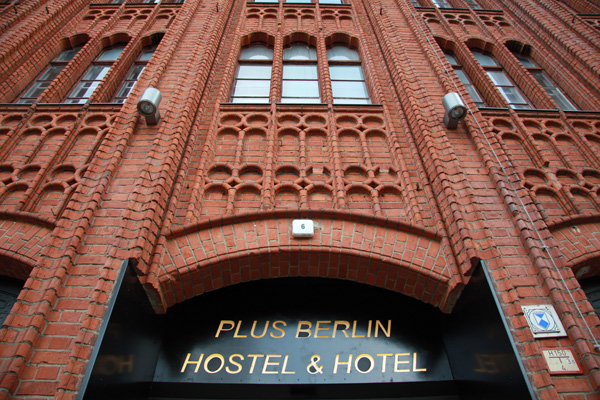 WOW! This really describes the first impression of the PLUS Ho(s)tel Berlin best. At second and third glance it simply remains a WOW. Wow PLUS Wow! The imposing brick facade is as striking as the inside of the building. One enjoys to come, see, marvel … This reaction was exactly their successful intention and we won´t bother you with too many words – this time the pictures tell the story – have a look! Let´s start with the outstanding courtyard of the PLUS Ho(s)tel Berlin. You can easily spend a couple of hours there to enjoy the beautiful and relaxing atmosphere as well as to admire the obvious and hidden art.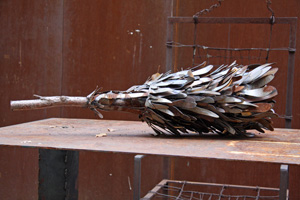 The beautiful and large garden (in the middle of Berlin – remember that!) is not only dedicated to the artwork but to nature and spectacular views as well: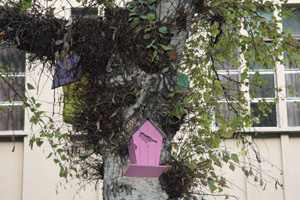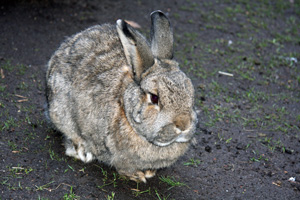 Let´s go inside – a very stylish ho(s)tel is waiting for you!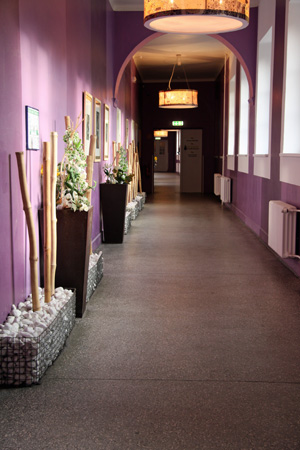 The walls of each floor are decorated with art, installations and paintings of various artists:
This beautiful entrance (below) leads you to the lobby and reception, where special offers like free yoga classes during winter are waiting for you – isn´t this a very nice PLUS?
Unfortunately, I could not have a look at the swimming pool at the time being there, but you only have to visit the PLUS Website and get the instant wish to dive into the cool blue … In the hostel itself this sign to the right will guide you to the waves.
This young man to the left is responsible for the successful daily business at the ho(s)tel. Morgan Field accompanies the PLUS in Berlin from the opening in summer 2010. Welsh-born Morgan studied Business Administration in the south-west of England, in Swindon. Though he likes Berlin he sometimes misses the countryside, nature and rural surroundings. But he knows he is still lucky working at such an outstanding place …
Remember: Berlin loves you and you will love the PLUS Ho(s)tel there!