City Hostel Berlin
Glinkastr. 5-7 | 10117  Berlin |  +49 (0) 30-23 88 66 850
Just around the corner – that´s the best way to characterize the CITY HOSTEL BERLIN. Located in the heart of Berlin, in the district Mitte, it is just around the corner of almost everything. The famous boulevard "Unter den Linden" and the Brandenburger Tor? Just around the corner! The Holocaust Memorial? Just around the corner! Reichstag and Bundeskanzleramt? Just around the corner! Schloss Bellevue and Tiergarten? Just around the corner! Potsdamer Platz, Checkpoint Charly, the "Alex", Berlin Cathedral, wonderful Gendarmenmarkt? Well, guess – just around the corner. Not even round the corner, but in immediate neighbourhood there is the North Korean Embassy. Comprehensible, as the adjoining district Tiergarten is the so-called "Embassy quarter". There are also parts of the Russian Embassy in Glinkastrasse. Thus, you are just around the corner as well as right in the international middle 🙂 !
But something else is just around the corner, as it is 19th December – of course, soon it will be Christmas. The City Hostel Berlin was certainly one of the first – if not the first at all – to set up a lovely Christmas market within its courtyard. With tasty mulled wine, hiding Santas, snow and red-nosed Rudolph – have a look!
It is so cosy and "gemütlich", isn´t it? And it is still there, we suppose – so, if you are not in the right Christmas mood yet, a visit to the City Hostel might help 🙂 …
But you won´t see the large number of presents there anymore. The City Hostel Berlin traditionally supports the fantastic campaign "Weihnachten im Schuhkarton" (meaning: Christmas in a shoe box).  Every year, the non-profit-organisation "Geschenke der Hoffnung" (meaning: gifts of hope) is in the need of delivery points, where people can drop their donations (little wrapped boxes filled with toys and clothes for children). One of those collecting stations is the City Hostel Berlin. This picture was taken in the middle of November and at that early stage, there were already huge stacks of parcels. We were very impressed. A wonderful campaign with lots of Berliners taking part. Merry Christmas :-), especially to those kids receiving these gifts !
The person paving the way for such campaigns at the City Hostel Berlin is Alexander Dolle-Koch (right), a highly creative thinker always in search of new ideas and operations to further promote the City Hostel. Besides marketing and sales, he is also responsible for the revenue business. Due to that he works a lot with our software ASSD PMS to release its entire yield management potenial (very well done :-)). Software in general is nothing new or strange to him as he used to study Business Information Systems at Göttingen University.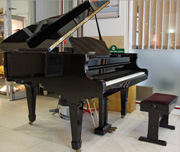 As a born Hannoveraner he loves living in busy Berlin and enjoys its rich cultural life. In those rare cases when he is not working or out and about he likes to read a good book or making music, especially playing his guitar. To his regret, the beautiful piano, a true grand concert piano in the City Hostels lobby, is out of order. Otherwise he would most certainly give a concert from time to time. And we would most certainly be in the midst of the audience. Maybe one day …?
Not just around the corner, but within the very centre of the CITY HOSTEL BERLIN, there are many more hostel-dedicated, hard-working and nice employees:
Simone Löbig (left), head angel of the housekeeping for example. As a trained Chef, she has been in the ho(s)tel business for a very long time working in various departments of the hospitality industry. Within the housekeeping she has found a working area where one of her personal values is needed most: she loves tidying up and prefers clean surroundings. The CITY HOSTEL BERLIN is very lucky to be in the hands of a pretty pleasant cleaning maniac – this is one of the best things that can happen to a ho(s)tel! Simone Löbig is moreover a very humorous person and – unbelievably – already grandmother of a lovely two-year-old. And we share the same hobby: Jogging! In this spirit, dear Simone, keep on running :-), it was a great pleasure meeting you!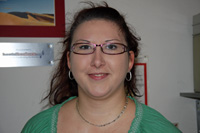 It was also a pleasure talking to Theresa Piechotta (right). She is Assistant Manager Revenue, Sales, Marketing and works as the right hand of Alexander Dolle-Koch. Prior to that, she was head of the reception at the hostel. Theresa, born in Görlitz, did a tow-year-training in Tourism Management in Chemnitz before she moved to Berlin. To her, it means a lot to have an uncomplicated and co-operative working environment, close contact to the guests and nice open-minded collegues. In the City Hostel Berlin she has found what she was looking for, lucky her!
And here to the left we have got Liridon Qunaj at work. Liridon owes his wonderful first name to his Albanian roots. His parents are both from Albania, but Liridon was born in Berlin. His name means "the one who loves freedom and independence". I was instantly delighted by this name and think it is a true inspiration. At the hostel, Liridon does his training in hotel management and is now in his second year. He prefers working in a hostel to a hotel because in a hostel the trainees get much more responsibility and a deeper insight into the different working procedures. Thus, he has a lot of fun and satisfaction within his work. And if he is off work, he uses every minute to kick it like Beckham :-).
At the end we would like to introduce the lovely City Hostels Sleep Sheep to you. If it is nighttime at your place we wish GOOD NIGHT, if you celebrate Christmas soon we wish MERRY CHRISTMAS and to all of you we say GOOD BYE and TAKE CARE!