aletto Hotel Kudamm
Hardenbergstraße 21| 10623 Berlin | +49 (0)30-233214100
Wandering through the aletto Hotel Kudamm is like going on a wonderful expedition of discovery with an outstanding highlight to be found on top. This unique topping is the roof of the hotel – a place worth to be bucket listed. The picture only shows the view in one direction, but it is like that all around – 360° Berlin. And at aletto Hotel Kudamm you are right in the middle of the city. Simply fantastic!
And then – look at that: if you are lucky you get even a room with a similar view!
But there is much more about the aletto Hotel Kudamm than only breathtaking sights. At the rezeption you get a very warm and professional welcome. I had the pleasure to meet Jennifer Cieluch (left), who used to work in 4 – and 5-star-hotels and is very well trained. Jennifer(left) is a true Berliner, she was born here. After she finished her training in hotel management, she went south to work in Zermatt, Switzerland. Returning to Berlin meant for her to swop within the hospitality sector as well – she started to work for ho(s)tels instead of hotels. And she loves it, especially the far more relaxed atmosphere and the lack of stiffness, inherent to a lot of upper class hotels.
At the aletto Kudamm motivated young people have the chance to do a training in hotel management. Like Anna-Lena Schönemann (right), she is in her first year and likes it a lot. Besides working, she loves meeting friends and going shopping. Sounds as if she couldn´t have found a more suitable city to live in :-)!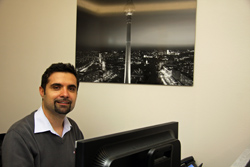 A huge "Thank You" goes to Razvan Lates (left), Sales and Marketing Manager at aletto Hotel Kudamm. He was the one showing me round this beautiful place. Razvan Lates is a highly versatile person, not only Master of Arts in Marketing and Communication Management but he also holds a university degree in Philosophy and Anthropology. He fluently speaks four languages and his German is so perfect you wouldn't guess his native country Rumania. On our way up to the wonderful rooftop with lounge bar he explained that the building of the aletto Hotel Kudamm dates back to 1958 and is listed as a historical monument (just like the nearby Amerika-House Berlin) what makes reconstructions, especially concerning stairway and facade extremely difficult.
The floors of the aletto Hotel Kudamm are assigned to various themes and topics, most of them are sort of art exhibitions in cooperation with several museums. To the right you see a floor directory that shows what all there is to explore in the whole house.
Otmar Alt (ground floor) has to be mentioned seperately. He is a famous contemporary german artist and he is the designer of the little aletto-logo. By the way, the hotel's name "aletto" comes from the Italian expression for "lying in bed" – in rooms with a view – remember :-). Going downstairs again and heading towards the aletto offices, we went through the green courtyard and a huge terrace with sun beds.
There is so much space (in the middle of Berlin, imagine!) that the aletto Hotel Kudamm can even offer an area to play professional boules and – believe it or not – an entire soccer field. Voilá, here we go:
Before I left this wonderful location, I had the pleasure to say hello to the company's management: Hendrik Kröger:
When I stepped out into the dark night again, I turned round for a last glance: